Custom Firmware 5.50 GEN-D3 (Final Release)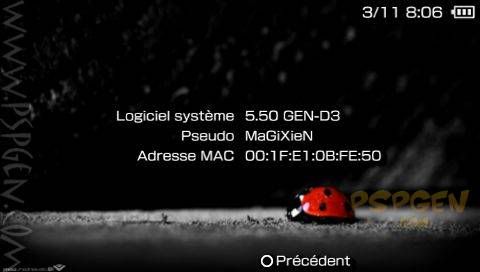 ---
*WARNING* DO NOT INSTALL THIS ON PSP-2000 v3 and PSP-3000
---
Minimum Requirements:
A PSP-1000 or PSP-2000 v1 or v2 (hackable PSP's only)

A PSP with Custom Firmware

5.00 M33

already installed
---
Warnings And Various Small F.A.Q.'s:
Please read the following before starting the procedure.
As we all know, yesterday's release of Custom Firmware 5.50GEN-D3 didn't really went well as planned with some users reporting various problems using the firmware update. So what's the reasons behind the hiccups and what's new with the latest release?
As posted by voxuni over at PSPGEN (translated):
A little less than 24 hours after our previous release, here is the Custom Firmware 5.50 GEN-D3 fully functional, we will try to respond quickly to the question everyone asks:
But what happened anyway?
As you all noticed last night the server was "slightly" faltered under the weight of multiple connections, and F5 desperate that most of us were abused, awaiting the arrival of new custom firmware.

The editor allows us to create and publish our news has also been affected, and if we could publish, not without difficulty, the 5.03GEN-C, things are complicated when it came time to finalize the news on the 5.50GEN-D3. When we finally had the opportunity to access the editor, is a beta version already on our servers which has unfortunately been put online.

The version presented this morning in the emergency encountered numerous problems for some owners of PSP Slim. In fact, a bug prevented in the VSH to see the ISO files from the Memory Stick. This bug was not found on our PSP, Yoshihiro was soon given the job based on the feedback you've provided in the pages of our forums.

We apologize for the inconvenience, and we invite you to take advantage of this revised version. You can reinstall it safely over your version 5.50GEN-D3 current.
---
Installation:
Download the 5.50 GEN-D3 File below

Connect your PSP via USB Mode

Extract the 550.PBP and the PSP folder to the root of your Memory Stick (not MP_ROOT)

Exit USB Mode

Go to your Game Menu and run 5.50 GEN-D3 Quick Updater

Follow the Instructions

Done!
---
Changelog:
Compatibility with all known PSN Game/Demo from on 15/12/2009

Compatibility with all known UMD on 15/12/2009

Add ISO SPeed MS loading (Beta version not really tested because we don't have any fake MS)

Network update

Fix for bug eliminate the VSH menu, everyone can now enjoy the contents of its Memory Stick

Update on backups that were seen as corrupt

Improved speed of access to Memory Stick during a game session

Added support for IRSHELL D3 which will release shortly
---
Tested games :
Tekken 6

Gundam vs Gundam

Phantasy Star Portable 2

Naruto

J-League Pro Soccer Club o Tsukurou 6 Pride of J

Naruto Shippuden Narutimate Accel 3

James Cameron Avatar The Game

Phantasy Star Portable 2

R-Type Tactics II Operation Bitter Chocolate

Bleach Soul Carnival 2

Battle Spirits Kiseki no Hasha

Yamada

etc.
---
Download Link:
5.50 GEN-D3 Final Release (Mediafire)
5.50 GEN-D3 Final Release (iFile)